Babify your Computer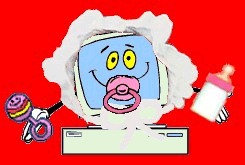 Here is an assortment of Desktop themes, Screen Savers, Explorer/Browser "skins"and Baby fonts that will allow you to personalize and babify your Desktop and Browser to your taste.
Would you like these cute baby cursors that are on this site for your very own??? Right click your mouse on the page with the cursor you like, pick set desktop cursor, pick "as current comet cursor" and you have changed your normal cursor.
---
The following links are provided as a service. Babyland is not responsible for their content.



Fae Pods
Adorable baby faeries getting ready to burst forth out of their little cocoons.

Black and White
Adorable Baby Angels with orig.ani cursors & sounds & 3 Logos.Contents 8 wallp.by using saver settings.

Baby Fairy
Pssst, don`t awake the napping Baby Fairy...Gorgoeus Anne Geddes graphic,ani cursors,sounds and lovely song.

Dad and Me
My Daddy and Me. Isn´t it a great experience when Daddy meets his new born Baby the very first time?Little voices make this precious moment complete.

Love at First Sight
Beautiful Victorian image of a girl meeting her new baby sister, for the first time. Based on the wonderful work of Jean Monti, this themepack includes icons, anis, startup/shutdowns, mpeg sound, and great matching screensaver.

Kenji-Ds Dancing Baby Theme
You can have the Dancing Baby do his funky moves right on your desktop. This theme uses Windows98 Active Desktop to make the baby dance. Some groovy tunes by Chemical brothers, The Orb, Prodigy, PWEI, and many more!

Baby Looney Toons
Windows 95/98 theme featuring the Baby Looney Toons!

Hush Little Babies
Beautiful theme that includes wavs of various renditions of the lullaby \"Hush Little Baby\". 1024x768 and 800x600 sizes included. Stationary also available.

Hey
Hey,wassup? Well,the answer and great fun is in the compl.song BABY BOY :O)A MUST! Also has Baby sounds,Baby ani cursors,3 logos,a saver & Hotbar.

My Angel Baby
This angel baby is a real cutie in lavender and pink, active has blue stars and a little angel follow your cursor. Sounds from the song My Angel Baby, Logo screens included, hotbar and screensaver available

Texas Baby Food
A hilarious Texas baby food theme that not only Texans will appreciate! This baby's hot!

Baby Desktop Theme Millennium Edition
"A cute theme for those who can't get enough of these lovable little humans." Includes: Fonts Startup Screen Baby Sounds Windows xp System Icons Desktop Themes Support Copyright 1998 - 2002 by forgotz Desktop Themes Database® forgotz.com® All Rights Reserved

Mother
Mother and baby by William Bouguereau.

Cry Baby
This pouting baby is too cute to cry. Includes a fun puzzle, plain and my angel cursor active paper, plus the complete song by Janice Joplin. Original icons, cursors, logos. Easy install. Stationery, Saver, ICQ, WinAmp, Hotbar skins available.

Macho Baby Man
Real Cute Baby.org.icons,cursors,sounds are real cute

Just Like You 2
Baby wanting to be like dad.icons,cursors.sounds by the Great Keb Moe

All Right Guy Baby
icons,cursors.sounds by Todd Snider and sweet baby defending himself lol

Childhood
This is a great theme! Romp with your favorite friends from childhood: Mickey,Blue,Pooh,Barney,& more. This has it all- excellent paper, cute icons,cursors,logos,good music-& matching ss. You can decide- whats for fun, & whats forever?

Dr. Suess
Im almost 40 and Dr. Suess still holds special memories from my childhood. Still pretty funky after all these years, too.

Blues Clues
Inspired by the runaway hit childrens tv show; all original icons and animated cursors; authentic sounds from the the show itself!!

Baby Angel
Another cute angel theme. Includes sounds of a small child and original icons and cursors. Hope you like it!

Motherhood
A beautiful theme about mothers and babies. Complete with sounds, soft blue-mauve colour scheme, Tumi's Texture Winglow cursors and 3 logo screens.

Oh Baby!
(Anne Geddes Babies ~ Original release date: 10/25/1998 This updated version is self installing to your Plus! Themes file. Two wallpapers resized to correctly fit both 640x480 and 800x600 resolutions.

baby blue by KiVi
Babytheme light blue.A little bit to think about...

PM Baby - Precious Moments baby theme.


Pretty Little Angel Eyes
The eyes of a baby angel encircled by pastels will steal your heart. Complete song by Curtis Lee included in zip. Original icons, ani-cursors, startup/shutdown screens. Easy install. Matching screen saver, stationery, ICQ, WinAmp, Hotbar skins available.
---
Skins for your Browser:


http://hotbar.com/index.htm
Drawing of Teddy Bear on yellow field:
Drawing of crawling babies in sleepers:
Drawing of crawling babies with pacifiers in drop bottom sleepers:
Drawing of line of Teddy Bears:
Numerous skins of Baby Photos (highly recommended):
More skins of Baby Photos (highly recommended):
---
Screen Savers:
Toy Shoppe Screen Saver
is a collection of toy images for young and old, with optional nursery rhyme background music.
---
Baby fonts for you to download:
Fun Fonts to download: