Ask Mama Jenn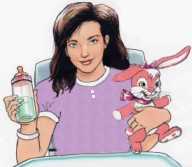 I am sorry to say that Mama Jenn passed away July 2002 and will no longer be answering questions.
We will leave the old questions and answers as a memory of her.

Bless You Mama Jenn. We Love You and Miss You.

Mama Jenn retains sole literary rights and copyrights to her column. Any message posted to her will be deemed to be donated material to be made part of her column. No part of her column may be copied, in whole or in part, by electronic means or otherwise for publication without her express consent.


---
9/03/01
dear mama jenn,
me and mommy have a question for yew cuz you is so smart. my mommy is only my mommy online and not in weel life. i dunt hab a weel life mommy but me do hab a family and job. shud my mommy be able to control what me doos in weel life? do me hab do listen to what she tells me eben when me not online? me need to no cuz me wants to be a good boy but it is hard when mommy is not here.
wuv yew,
BabyBoy
Dearest Babyboy,

Sweetheart, Your online Mommy is only a play mommy and not a real live mommy. Mama Jenn assumes that you are married and have a play mommy just for fun. No Dear, your play mommy should not control you outside of play. The Big Boy part of you has responsibilities and can't allow himself or his family to be endangered by the baby play of the younger side of him, just as a little boy should not allow himself to be afraid of what he dreams when he is awake. Take care and have fun with your baby play, Sweetiepie!

Love and Kisses,
Mama Jenn
---
9/3/01
Mama Jenn: how do i find a ab/dl like myself im looking for a women between 22-34 for a LTR ive tried dpf but there seems to be no women on the site im a very attractive guy and i have no problems getting regular dates but i would love to meet a female into ab/dl i have been ab/dl most of my life and i think it would be so fulfilling to expereince a real relationship with a women of the same can you help me?
naughtyboy
Dear Naughtyboy,

A number of sites have bulletin boards for personal ads. Also, DPF has a club, called "Babyclub", that has an international listing of AB/DLs that has hundreds of members who are not listed on the DPF site. Most AB/DL bulletin boards are free, but DPF's Babyclub is a subscription service that provides a degree of anonymity for ABs. A good-looking AB such as yourself should have no problems finding a willing partner once a photo of you is posted or emailed. If you really want a LTR (long term relationship), I suggest that you begin by making a sympathetic friend of a woman before attempting to try to induce her into becoming your Mommy/Mistress/Wife. Love and care come more from a sense of friendship rather than sex. Most women want their lovers to be adult men if the relationship is based on sex, but it's possible to feel sexual emotions for a friend with whom one has maternal feelings. Be honest and go slow. Be her friend and let her see the vulnerable side of you. In time, after she has grown to love the child in you, she can love the man in you too with no sense of betrayal.

Good luck, Pumpkin!
Love and kisses,
Mama Jenn
---
8/4/01
Dear Mama Jenn,
Baby just wants to thank you for being here for him and all your other babies. You are a wonderfully kind, caring and loving mommy and baby always feels safe and secure here. It is very reassuring to know that you will always care for me and never make me give up my diapers. Baby hopes that you will be blessed every day with the same tender, loving kindness that you shower upon your babies (and with good health as well!).
Love and hugs,
Baby Stevie, your wet toddler
Dearest Stevie,

Mama wants every one of her babies to feel safe and secure at her Website. Mama has had to look after several members in her immediate family who have been direly ill recently and has unfortunately neglected to some extent her other babies. Rest assured, Pumpkin, that Mama hasn't forgotten anyone and their need to correspond with Mama. Mama loves you all and will never forget your need to talk to her.
Hugs and Kisses,
Mama Jenn
---
8/4/01
Dear Mama Jenn,
I have recently become the proud mother of a wonderful baby boy. We would like some assistance in our initial role play. Could you give us some suggestions? My baby is quite different in that he enjoys golden showers prior to my bathing him. We need some help, please.
Angeline
Mistress Angelin,

Golden showers are not exactly AB play, but bathes are. After baby has become thoroughly wet from the waist down, bath him as usual except use bubble bath and have baby toys in the bath. Bathe him with Johnson & Johnson Baby Soap and Shampoo while he plays with his bath toys. Do not allow him to speak in other than baby talk while he is in the tub. Give him a strong dose of a laxative such as Milk of Magnesia before bathing or a Fleet Enema when he has finished bathing. After his bath, he should have a snack of a large amount of watermelon (a natural diuretic) with a bottle of baby formula sweetened with lactose and laced with liquid Ducolax. Diaper him in one of the thicker disposable diapers such as Attends, Tranquility or Moliforms and place diaper doublers in both the front and rear to absorb the extra liquid.

If the "shower" begins early in the day, then you can bib and feed him breakfast, change him afterwards and allow him to watch cartoons, put him down for a nap before lunch, then feed and change him again, allow him to play and then feed and change him after dinner. You can play "mommy" games with baby during playtime (See our AB Resources section) or give him a massage. You can dress him as you please after diapering him and even take him out for lunch or dinner at a fast food restaurant and buy him a children's meal in public if his diaper is covered in acceptable clothes. Or you can leave him in just diaper in the back seat and order meal for him.

Idea: Oshash by Gosh Overall shortalls are available in adult sizes with snap-legs and crouch for easy diaper changing. These are very similar to the women's denim shortalls style which have lately become very popular. You can lead him into a nice restaurant following you as you grip his hand firmly as if he were a confused and wayward toddler. No one will take notice of his baby clothes until he is bibed and you begin spoon-feeding your baby.

If you need any more ideas, email me.
Mama Jenn
---
8/4/01
Dear Momma Jen,
I don't mean this the way it sounds, but I'm asking you this, because I feel the proper connection, meaning I feel a nurturing understanding. That it'll be ok. I don't picture you as my mother, but you have a ke that, I would feel like an adult, but it would be like my baby side would be forgotten. I want to experience those baby feelings. That's why I don't know how much this has to do with my infantilism. I would probably settle down for a while, but I know I would have the need to be babied again, and I also wouldn't like the feeling that I was pushed away from my baby feelings. What do you think all of this has to do with my infantilism. Do you think that I wanted to be a baby again when I said that about growing up to my social worker, and was just blaming this on bad parenting somehow? Because, I said to her that if I hadn't grown up with farytales, I wouldn't have been depressed or week. My grandfather said I had to be a man, when I got hurt, and I guess at other times too, BUT I could feel like a man. I didn't want to be one inside. What do you think. I don't like things lying around like that.
Well, me gots to go now, mes just went poopoo. Hehehe.
Buhbye momma Jen.
Baby Jamie
Dear Jamie,

Mama Jenn truly doesn't understand why you want to have lived in rougher circumstances. Most people are depressed because they have been ill treated during their childhood rather than wanting to be punished by having a more terrible childhood. It sounds to me like you are very angry, but unsure with whom you are angry who or what you are against.

Somehow Mama gets the feeling that you just want to forget everyone and everything and just start over as a little baby. That is not a bad feeling to have, especially if you are so confused that you don't know whom to be angry with. It's rather obvious to me that you are livid that your real parents were not able to raise you and gave you up to your grandparents who could care for you. Your grandparents have tried their best, but had they been perfect parents, your mother would have been raised properly to take care of you.

Honey, you are a man because you have the courage to write and ask for advice. There is nothing wrong with being an Adult Baby and it doesn't lessen your manhood. Don't be angry with your parents, you grandparents or yourself. It's okay to be an adult baby. It's okay to want to be hugged and snuggled. It's okay to wear, wet and mess your diapers. It's okay to want to be loved and cared for. It's okay to suck your thumb and to play like a baby. It's okay to want to be loved unconditionally.

Sweetheart, don't despair! I'm here to listen to your needs and answer you. I love all of my babies!
Hugs and Kisses,
Mama Jenn
---
8/4/01
Mama Jenn:
The shrinks kept saying that my infantilism will keep me from growing or developing. Is this true? I didn't do anything. I feel like someone's shouting at me. I can't get rid of it. I need it.

On a much happier note, where can I buy big baby furniture?

Hugs and lots of kisses.
Buhby. Hehehehe.
Baby Jamie
Dearest Baby Jamie,

Since I don't know your age or circumstances, I can't address your psychiatrist's prognosis directly. Mama can say that your infantilism is a symptom of your late maturation rather than a cause and is not something to feel guilty about. Your psychiatrist has everything backwards, when you actualize your need to be a baby you are happy, and when you repress your needs to be a baby you become depressed. On a statistical basis, the prognosis of your changing from an AB to a "normal" lifestyle is very slim. Accept what you are and be a happy baby! Other people always have some expectations that we cannot meet. You are not going to wake up tomorrow and be everything everyone wants. Wet your diapers, drink from baby bottles as you will. Work hard in the adult world and be the best employee that you can be. More than that, no one can ask of you!

Look in the AB resources section for where to find big baby furniture. Big baby furniture is expensive, Sweetheart!

Hugs and Kisses,
Mama Jenn
---
8/4/01
Dear Mama
Me no know if Mama Jenn remembers me or not. I wrote a long time ago about finding a mommy and you gave me some tips. Just wanted too tells you how everything going. It no going as good as me would of hoped but alot better then it was. Me have two online mommies that live together makeing sure baby is doing everything him is suppposed too. Them even made me stand in corner and watched on me web cam to make sure me did it. They also tell me when I can have one of my treats for being a good boy. Which is lots 'cause me always good boy. Me hope every thing is going as good in your life. Thanks you so much for all your help.

*big kiss on the chin*
lots of loves
Baby Bri Bri
Dearest Baby Bri Bri,
Mama Jenn is so happy that you have found two online mommies for you. Mama has never thought of it, but a using Webcam to make sure that baby is being obedient is a wonderful idea! Mama is very happy for you!
Hugs and Kisses,
Mama Jenn
---
8/4/01
Dear Mama,
the other night myself and a woman i met went to a hotel room to play baby. she didnt want to diaper me right away so i did it myself. i crawled around she talked baby to me put bottle in my mouth and pacifier. but since we btoh had never done this before we didnt know what to do, we both really like this, any suggestions for what we can do to make this better.
thanks.
newbaby
Dear Newbabe,

Have you thought about a bubble bath with a rubber ducky? Or perhaps a nice bottle full of warm formula while you are nestled against mommy's bosom to fill your tummy? Playing patty-cake and other baby games with mommy is fun too. Mama Jenn has a list of nice baby games to play with your mommy in the AB resources section of our Website. How about a baby massage after your bath? Or maybe baby would like to have a nice dinner of applesauce or other babyfood spoon-fed to him from a jar by mommy while he wears a bib. Maybe you'd like to wet your dypee and have mommy change it. How about having mommy read you a nice story, like Winnie-the-Poo? Maybe mommy would enjoy having baby lie down beside her and suckle at her titties like a real baby. Of course, baby shouldn't speak except in babytalk to make the experience more real. Having mommy dress you in baby clothes can be fun too! When you leave the motel, assuming that the bill has been paid, mommy should drive while you sit in the back seat of the car with your binkie pinned to your shirt while you suck on your ba-ba. Of course you'll be wearing nothing below your waist but your diapees around your bottom. She might even want to stop by an all night drive-in for a burger and get you something from the children's menu for yourself as you suck your thumb while sitting in the backseat of the car. You and mommy might even like blowing big soap bubbles while you sit on the floor of the motel room.

There are lots and lots of baby games and things to do with mommy. You might enjoy a board game of Candyland or other board game for your age group. Baby time should be a time of play and enjoyment without worry or embarrassment, Sweetheart!

Have a good time with your new mommy, Sugarplum!
Hugs and Kisses,
Mama Jenn
---
8/4/01
hi mama jenn
I have never warn a diaper before but I think I want to start wearing and using disposables. I just want to know what they are like. how do they feel dry and when they are wet. I'm hoping that they are really squishy and mushy when wet because I want to be able to squish around in my wet diaper all day and feel the warm gel and stuff. and whats a good type to buy. I think I want something that can take a lot of both peepee and poopy.
wetdiaper
Dear Wetdiaper,
I think that I'll let my baby Stuie answer this one:

deaar wetties, me lub wet diappess! Posables are good good cause they gets all nice big and warm squishys when me wets thems. Sometimes I make poopies too. Clot diappees are nice and soft but don't get squshyees, but dey feels good in the morning all nice, wet an warm.

Mama Jenn: Moliform, Tranquility and Attends disposable diapers are the most comfortable disposables on the market (according to my baby Stuie).
Love and Kisses,
Mama Jenn
---
8/4/01
Hello Mama Jenn.
My name wittle josh and me normally a good wittle boy for my daddy but lately me been naughty cuz me no wanna go bed early when it's light outside me wanna stay up like a big boy. daddy says i still gots to go bed at 8:00 no matter what but i just wanna stay up and watch movies. help me mamma jenn
love josh
xxxxxxxx
Dear Josh,
Babies need to get their sleep, otherwise they get fussy and irritable the next day. Your Daddy is right, you should be in bed by 8:00 PM every night. Be a good boy and go to sleep when Daddy says you should, you can watch TV during the afternoons. Perhaps your daddy can record the movies that you want to watch if you are good and the movies are appropriate to your age group.
Love and Kisses,
Mama Jenn
---
8/4/01
Hi mama jenn.
I have a question for you. I know a woman that I care for greatly and I have recently found that she is an AB girl. I have talked with her about this and she is willing to do an AB session with me. I to am an AB but I dont know how to tell her. She thinks that I am just your average joe. I am wondering if I should tell her about my AB side and if would would affect the relationship between me and her. Should I tell her I love to endulge myself in diapers and plastic pants?
thanx
babyjoshie
Sweetheart,
The decision to tell your lady love about the AB part of yourself should be considered carefully. Before you tell her about your needs as AB, she should be convinced of your love and devotion to her. Let the time and place be right (perhaps a candlelight dinner at a good restaurant might be in order) when you tell her that you love her and would like to share a night of non-sexual love as an AB with her. Unless I miss my guess, she will jump at the chance, especially if you woo her in a sufficiently romantic fashion. She sounds like the perfect playmate for you.
Love and Kisses,
Mama Jenn
---
More Ask Mama Responses on next page.